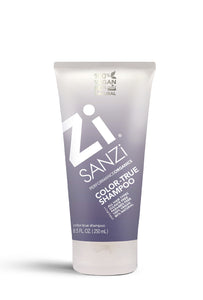 A luxurious lather, gentle cleansing sulfate-free shampoo. Does not leave hair feeling dry or brittle. Contains natural multi-fruit complex. Natural gentle cleansing surfactants. Preserves hair color. Botanical fragrance safe for use on all hair types. Leaves hair silky with the right amount of conditioning benefit. Doubles great as a hair and all over body wash.
100% VEGAN • 80% NATURAL • ANTI-AGING • SULFATE FREE • PARABEN FREE • COMPLETELY COLOR SAFE • ULTRA LOW PH 6 • NO ARTIFICIAL COLORS • GLUTEN FREE • UNISEX BOTANICAL FRAGRANCE • BHT FREE • UREA FREE • PHTHALATE FREE • NEVER TESTED ON ANIMALS • MADE IN CANADA

If you are wondering whether this shampoo is worth the money, the answer is YES! You can tell a huge difference in how your scalp and hair feels. While this is a great option for those wanting organic or vegan products, its appeal is much greater than that. — Nicole S.
• • • • • 
How To Use: 
Wet hair and work into a luxurious lather and rinse.
• • • • • 
INGREDIENTS: Aqua (Water), Sodium Laurel Methyl Isethionate, Cocamidopropyl Betaine, PEG 40 Hydrogenated Castor Oil, DMDM Hydantoin, Citric Acid, Sodium Chloride, Fragrance, Vaccinium Myritillus Extract, Saccharum Officinarum Extract, Acer Sacharrum Extract, Citrus Aurantium Dulcis Extract, Citrus Medicum Limonium Extract.