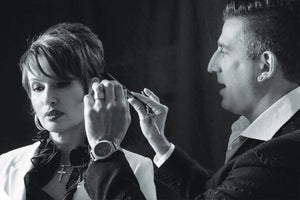 Our Story
Like many consumers, we were concerned about the toxic chemicals in existing products. One day, I made the suggestion to my husband, Robert, that he should create his own line of hair care products.

As an award winning master stylist, Robert knew from experience that we could design a natural product that had the benefits of high-performance products without the harmful chemicals. It all started with a revolutionary shampoo that was sulfate-free, paraben-free, and completely color-safe. The overwhelming reception for this initial product sparked the development of an entire line of performance organics.
Our Mission
We provide a better, safer, and healthier product alternative. Our comprehensive line of high performance products is a refreshing alternative to the status quo of the hair and body care industry, as our products are completely toxin free, 100% vegan, and made with 100% organic ingredients.

We are committed to moving the industry forward through continued research and development of products that are safer, healthier, non-toxic, and high performance.
Our Ingredients
100% Organic Aloe Barbadensis Leaf Juice
Contains a number of vitamins, minerals, and enzymes that rejuventate aged tissues and promote healthy skin (A, B1, B2, B3, B5, B6, B12, C, E, Choline, Folic Acid, and enzymes)
100% Certified Organic and USA Grown Sugar Cane
The high moisture content of sugarcane makes it an effective moisturizer, and detangler. It is also rich in vitamins and minerals which help promote healthy skin and hair.
Coconut Oil
Moisturizes and works wonders for dry or damaged hair
Cocoa Seed Butter
Moisturizes, protects, and provides relief to the skin.

Shea Butter
Moisturizes and revitalizes skin and hair. Shea butter also has anti-inflammatory/regenerative properties.

Vitamin E
Protects skin from the effects of solar radiation by acting as a free-radical scavenger.

Olive Oil
Cleanses, hydrates, and nourishes hair and scalp.

Argan Oil
Rich in antioxidants, vitamins, omegas, and minerals that promote radiance for skin and hair.

Grape Seed Oil
Known for it;s anti-inflammatory, antimicrobial, and antioxidant properties.

Soybean Oil
Contains antioxidants and moisturizes hair.

ISELUX®: A sulfate-free blend of surfactants
This super gentle blend of sulfate-free surfactants delivers a luxurious lather while gently cleansing and rinsing clean for longer-lasting, amazingly rich hair color — 90% plus color retention after 1 month of washes.

Anti-Aging Multi-Fruit Acid BSC Complex
An amazing blend of bilberry, sugar and citrus natural fruit extracts that act as nature's own Alpha Hydroxy Acid to promote a clean scalp with cell renewal for hair and scalp - also promoting radiance and shine for the hair. Unsurpassed in any color protection shampoo.

PRODEW® 500
The new Amino Acid Blend Complex developed exclusively for hair care is a complex blend of 11 amino acids for the hair. The presence of naturally occurring Amino Acids and their role, when applied externally, is to interact with the hair to produce various cosmetic effects, such as moisturizing, strengthening structure, SUPERIOR color protection and repair of surface damage.

Non-GMO Rapeseed Oil Behentrimonium Methosulfate
It's so mild and most effective hair-detangling ingredient available. Made from NON GMO rapeseed oil, this scientifically sophisticated ingredient is renowned for its superior detangling ability, without causing build-up on the hair. It has superior wet combing properties unlike other hair detanglers, which are known for their irritancy —It's so mild, it's recommended for use in baby products. It's not a sulfate.
Sanzi History
1897 — Robert's great grandfather Nunzio Sanzi immigrated to the USA from Pantone, Catanzaro, Italy, with his young wife, Carmelia. On his naturalization documents, he listed Barber as his profession. Hence leaving Robert an Official United States Document that he is indeed a 4th Generation Hairstylist. They had five children; one of these was Robert's grandfather Nick Sanzi. He also chose barber as his profession; seeing an opportunity to expand the business, he went back to school to get his cosmetology license. At that time, men and women were segregated, and men went to the barbershop and women the beauty salon. His grandfather was the first in his county to be licensed in both Barbering and Cosmetology; subsequently, he could then work on both men and women in the same salon.
1940's — The Sanzi name was synonymous as the premier hair salon in a bustling county seat during the coal/coke boom in Western Pennsylvania. Nick, unfortunately, suffered a massive heart attack and passed. Ann, his wife (Robert's grandmother), had three young boys at home to take care of. She moved swiftly to put them into boarding school and went to beauty school to become a licensed manicurist to keep the family business thriving, which she continued until her passing in 1999.
Two of Ann's three sons went on to have lifetime careers as hairstylists. Ron had several salons and multiple beauty schools, where many of his children learned the craft and work. Ray, the youngest son, also went on to a long and successful salon and platform education career. His three sons were also hair stylists.
1960 - 1980s — Fran Sanzi (Robert's Mom) is finally convinced and begins working for Ann Sanzi as a prestigious hairstylist working at the time in Cleveland, Ohio, and Pittsburgh, Pa. Here at Sanzi Hair Fashions, Richard (Robert's dad) was home on break from the Air Force and met Fran. They fell in love, had two boys, and opened up their salon called Fran and Marci's (Robert's Aunt).
1988 — Robert withdraws from engineering classes at the University of Pittsburgh and is convinced by his father and cousins to give his uncle's beauty school a try. Catching on quickly, he soon begins to win haircutting awards and wins the Pennsylvania State cosmetology Grand Champion Award 3 years in male and female hair cutting. During this time, he is a platform educator for Paul Mitchell and Abba products and managing a very large salon.
1989 — Fran Sanzi opens Expressions in Hair and convinces Robert that West Virginia needs his skill set. He is still working here to this day. Robert is also a 3rd generation hairstylist on his Mom's side.
1992 — Fran Sanzi is diagnosed with breast cancer and undergoes extensive surgeries and treatments for several months. It is at this time that Robert begins to research healthier safer alternative hair care and body products
for use in his salon for a safer environment for both staff and clients. He soon found out he was at the forefront of a new movement in the beauty industry.
2007 — Robin Sanzi (Robert's Wife) convinces Robert that with all this family history and knowledge he has it's time to begin our own product line and use the family name. Robert knows this is no easy task but begins the process, after several failed attempts, he fires the first lab and moves on to a very successful formula (color true shampoo), the first high lather sulfate and paraben-free formula on the market. Sanzi Performance Organics is born.
Robin and Robert begin to evolve the product line into using Organic Ingredients, ensuring Cruelty Free ingredients for a Vegan Formula and the staple of the brand still to this day - High Performance Sulfate-Paraben-Gluten-Free Organic Vegan formulas - so everyone can have a great hair day!